I do love to come up with clever song-title posts. Even if they make me seem conceited. It makes me smile when I come up with them. And then I realize how dorky I really am :). But here it is... another
song-title
post :).
Today is it. Can you believe it? I really can't. Seriously. It's bittersweet.
Yesterday, my day started out normally. I arrived at work 15 minutes late (okay, so that's a little less than normal... usually I'm only 5 or 8 minutes late). I did my usual work for the morning. Then, at 11, we headed out to catch the bus to Swen's for my good-bye luncheon. See, the Crimson Ride goes right by the shopping center where the restaurant is, so we figured it'd be easier to ride the bus than to drive and lose our parking places. So that's what we did. And it was very quick. So we all got into Swen's and got our seat. There were only 6 of us who went, but it was very fun. With smaller groups, we all get to be part of the same conversation! Not so with large groups. So, the people who went were me, Annie, Patricia, Le, Suhua, and Mattie. We got several pictures. And the department all chipped in to get me a nice sweater from the University and a key chain with the well-known A for Alabama. And after talking to Christina on Tuesday, who informed me that it was "chilly" in Washington on Tuesday (yeah, as in two days ago!), I'm thinking I'll get lots of use out of that sweater! And it's a fluffy soft sweater! The card was also very nice. Everyone in the department signed it. It was hilarious! William wrote, "No more naked trolls!" because I used to "moon" him with a blue-haired troll (that is now packed and ready to move to Washington). I blogged about this back in October. And Michael wrote, "No more mice!" And you should all remember that story, since it was recent :). Oh, and since we went to eat Chinese food, we had a great (and hilarious) discussion about the fortunes. Patricia's husband said that you can always append the words "in bed" to the end of your fortune and it makes it totally hilarious. And, he's right. So, we all read ours out loud and we appended "in bed" and we just laughed and laughed and laughed. Try it next time. It's funny. Want to know my fortune? "The only way to have a friend is to be one." I'll let you add the two words mentally :). Oh, and then afterwards, we went into the boutique next door and looked around. And that's where we got someone to take the group shot, since it got pretty busy in the restaurant and there was no one available to take our picture.
I left work after lunch, because I had a dentist appointment. I went by the apartment and helped Stefanie do a few things there before it was time for me to go to my appointment. And good news all around! No cavities, and both the dental hygienist and the dentist said I have great teeth! Woohoo! So then it was back to the apartment to help Stefanie some more. You should know I am an awesome packer. She was sure she wouldn't be able to fit everything into her car. I got it all in there and there was even extra room! And it was quite a feat, let me tell you. But, I've done enough packing for a lifetime... I've learned. By 6:00, Stefanie was gone. But not before pictures! And please excuse our black feet in the one picture... We were doing a lot of walking around outside barefoot... And by the time it was time for pictures, we didn't have anything to set the camera on!!! So, we used a granola bar box for the second picture. Aren't we cute!?!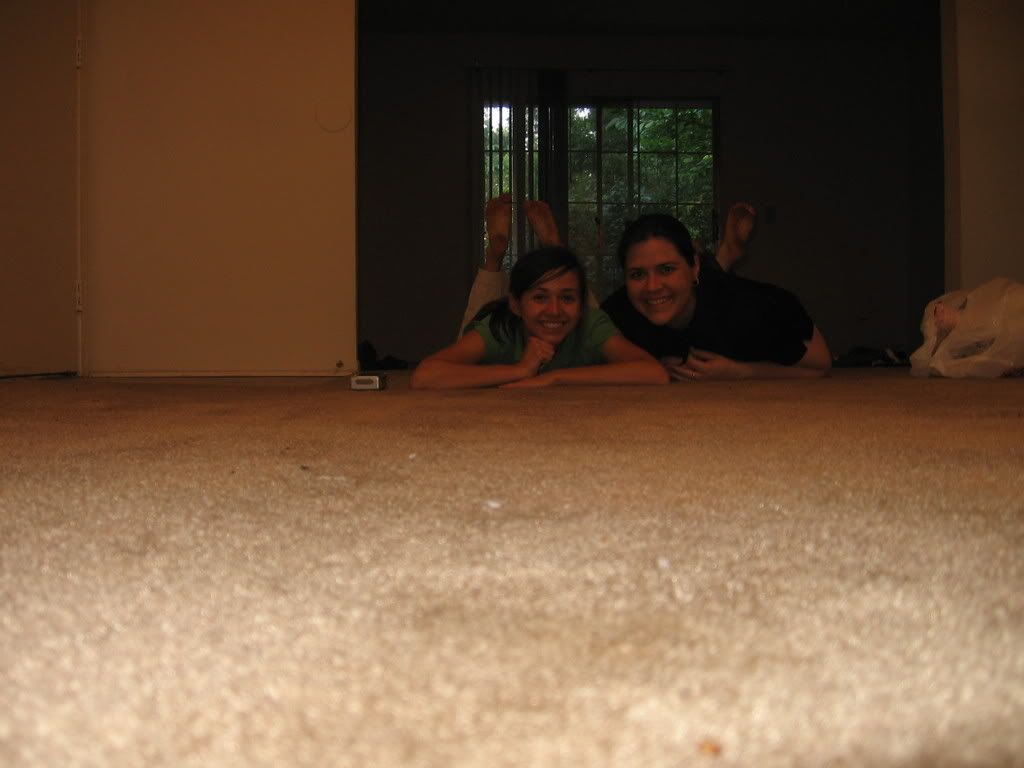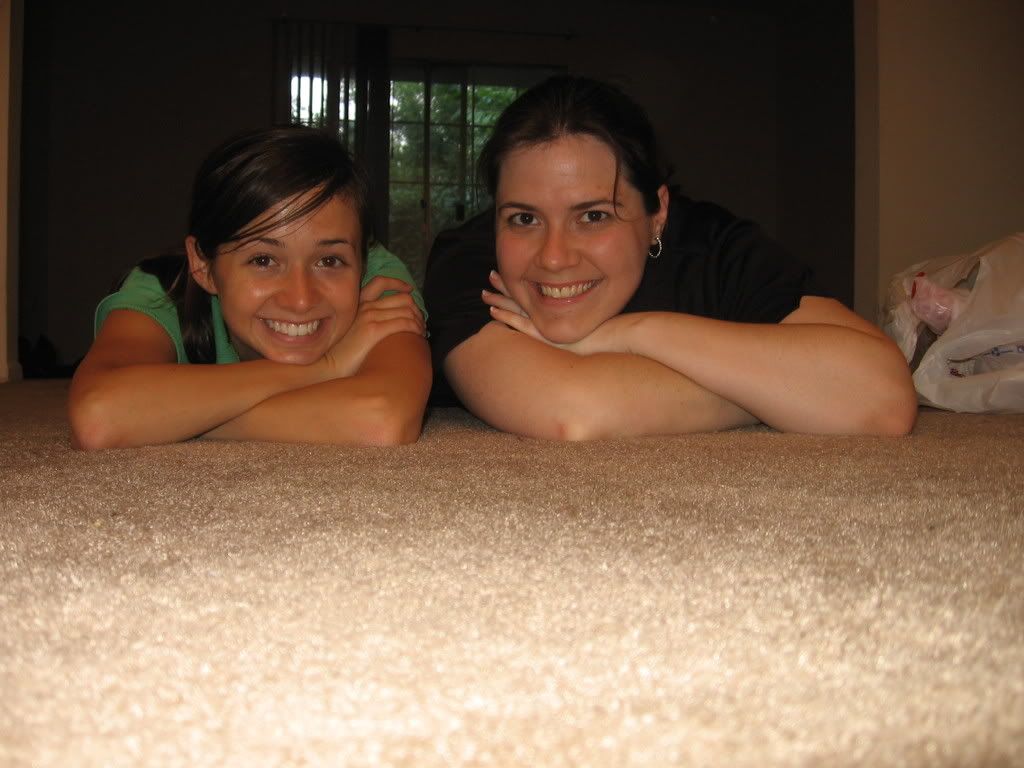 Once Stefanie was gone, it was really weird. I mean, it didn't feel real that I'm probably never going to see Stefanie again. I even told her that. It's just strange! Virginia came by at about 6:30. Originally she was just going to come to get some of the perishable foodstuff that I was giving her. But she had made me an offer on Sunday that I could stay at her place my last night in Tuscaloosa if I wanted. I decided to take her up on the offer. Because the apartment was so empty. And I also didn't even have a sheet to sleep under that night. So, I got a shower while Virginia was awesome and took all the trash out. Then I finished cleaning the bathroom, did one last sweep of the apartment, packed up my car, and I left. That was it. That simple. And thank you so much, Virginia, for giving me a place to stay on my last night! Not only was it 100% more comfy than sleeping on the floor with no blanket, it was also nice to spend my last night here with a friend! I will miss you and all the hanging out we did! I know I'll see you in 3 weeks to pick up my stuff. But even so, I want you to know that I'm glad I know you! And Virginia and I ate cake and ice cream (because we can, and because I am bound and determined not to fit into the skinny pants I packed for Panama... Guess I'll have to run around pant-less...hahaha). We did that while we watched an episode of
Frasier
on youtube and two episodes of
Wings
. And we laughed :).
Today is my last day at work. And Le has already started crying. It's so sad! So, we took several pictures of the four of us in our little corner of the world on the 4th floor of Gorgas. So, enjoy :).
Oh, and I keep forgetting to add this picture! This is what my stuff looks like at Virginia's! Thanks Virginia for the picture!